You may have heard about smart assistants. What is it actually? It is an application that can understand voice commands and complete tasks for a user. Today's market is dominated by smart assistants on most smartphones and tablets. You may have heard about Alexa, Google Assistant and Apple's Siri, Bixby is just like them which is actually Samsung's own voice assistant.
Samsung's smart assistant Bixby; Image Source: theverge.com
Bixby is enable for editing photos, sending messages, and composing emails on its user commands. Anything that you do on your phone via touch, you should be able to do via voice with Bixby. It can also control some smart home appliances and Internet of Things (IoT) devices, including smart fridges, TVs, and dozens of other Samsung devices.
Here's how to use Bixby and everything you can do with it.
Bixby Voice
As we already know we can interface with Bixby using voice commands using it as a voice assistant. Voice assistants are still pretty limited to basic tasks, like playing songs through a smart speaker, telling you the weather through a smartphone app, navigating smart TV menus, making shopping lists and calendar invites, or answering basic trivia questions. 
Opening a picture from gallery using Bixby Voice; Image source: androidcentral.com
Once you've installed the software, you can invoke the voice assistant by saying, "Hey, Bixby" or by holding down the Bixby button while you talk. If you don't want to look like you're talking to your phone in public, you can talk to Bixby by holding your phone up to your ear, like a phone call.
Compared to Google Assistant, the app runs a little more slowly and doesn't have the breadth of the Google search engine to draw from, making the potential pool of information smaller.
Bixby Routines
Bixby Routines lets you set up Bixby to handle various repetitive tasks by understanding various triggers. Let for example, if you listen to the same Spotify playlist when you drive for work, then you can set up a Routine that opens Spotify and starts playing a playlist as soon as you connect to the Bluetooth in your car. It is a really useful tool which can help you to save time by making daily routine activities automated.
Bixby Routines on Samsung Galaxy S10; Image Source: sammobile.com
If you rely on navigation a lot, you can also set up your routine so it pulls up Maps as soon as you connect to your car's infotainment system. All of this is done automatically when an predefined event is triggered.
Now let's see how we can set up Bixby Routines:
Open Settings from the app drawer or home screen.
Scroll down to reveal more settings.
Tap Advanced features
Toggle Bixby Routines to On.
Tap Bixby Routines to open your options.
To get started, you can either select from the preset routines, or you can set-up a new routine yourself.
To set up a new routine, select the + symbol from the top-right.
Next, you'll want to name your routine, and select a trigger — this is your "if this" action.
Tap the + symbol to add your trigger. If you want to set up the pre-mentioned car example, select your car's Bluetooth connection from the list.
Hit Next and the + symbol to move on to selecting your "then" action.
Select Play music, then Spotify from the list, as per the pre-mentioned car example.
It's the simplest way of setting up a Routine. But it does not end here, it gives you more and more! You can also make your Bixby read your notifications for you when you are driving, by adding that to your routine. You can also create a routine that switches on your smart bulbs when you get home! Actually, the best way to use Bixby Routines is to start experimenting and find out what you can do.
Bixby Vision
Bixby Vision combines machine learning and database to make the camera a little more useful. It can detect several categories of objects such as place, text, image, food, QR codes and mane more.
To launch it you can tap the Bixby button in the Samsung's camera app, or the Bixby Vision icon on the left side. You can also find Bixby Vision in the Gallery app.
When you the Bixby Vision, by default you will get it in the Text mode. It would allow you to translate a foreign language into your chosen language. It supports a large range of languages. Try to fit the text you want to translate into the box on the screen, and a real-time translation should appear.

Translate using Bixby Vision; Image Source: samsung.com
Bixby Vision's Places uses FourSquare to identify landmarks and interesting places around you via waypoints, if you're ever looking for somewhere to visit or something to do nearby.
Interesting part you'll find in the Vision's Food tool. It lets you point the camera at food to see calorie information, which can then be added into your Samsung Health app.
Calorie information using Bixby Vision; Image Source: samsung.com
It also works as a Shopping Tool. Just point the camera at shoes, clothes, or other products and Bixby will try to find it on Amazon, Nordstrom, and a few other retailers.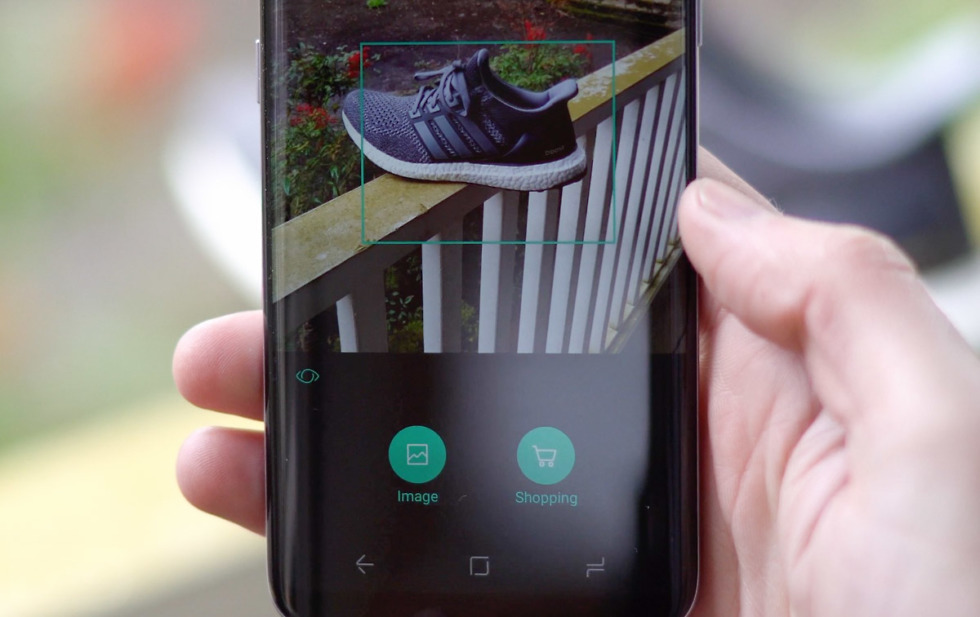 Shopping with Bixby Vision; Image source: droid-life.com
The newest category is Makeup. Here, you can virtually try on different products from Sephora. Once you find the perfect look, you can capture your image and Bixby Vision will provide you with details and links to the products for purchase. Cover Girl is expected to join the mix in a few months.
Bixby Home
Samsung calls Bixby Home a "social stream for your device". With Bixby Home, you can easily build and control your smart home. You can aslo set quick commands. For example, you could set the assistant to turn off all lights and set an alarm when you say the command "I'm going to bed". This is fun, right?
The list of third-party services that support Bixby Home is growing. CNN and Flipboard show trending news stories from around the web. Facebook, Foursquare, and Twitter show the latest updates from your social circles. Uber will show your recent rides. A Spotify card provides one-tap access to your playlists and music.
Reminders
With Bixby's Reminders, you can set a specific time you'd like to see a reminder or even a specific location. When the conditions are met, said reminder will appear in the form of a notification you can dismiss, snooze, or check off.
Featured Image Source: engadget.com